Twist & Twirl Buttercream
Twist & Twirl Buttercream
For moisturised Twists, Braids and Curls. 
For soft hold, fluffy twist outs and defined clumps of curls - this is our go-to product! Can be used for shingling, twists, twirls, braiding and even deep conditioning!

Please note that as of July 2018 we no longer use bee or silk worm products in our hair care range. This is one of a series of small steps towards becoming a wholly vegan brand and considering the welfare of the animals we share this world with.
Works well with:
Moisture Mist Spritz, Curl Cocktail Spritz (use spritz to moisten hair before application) and Almocado Hair Oils. or Seal & Protect (use oil/butter after application)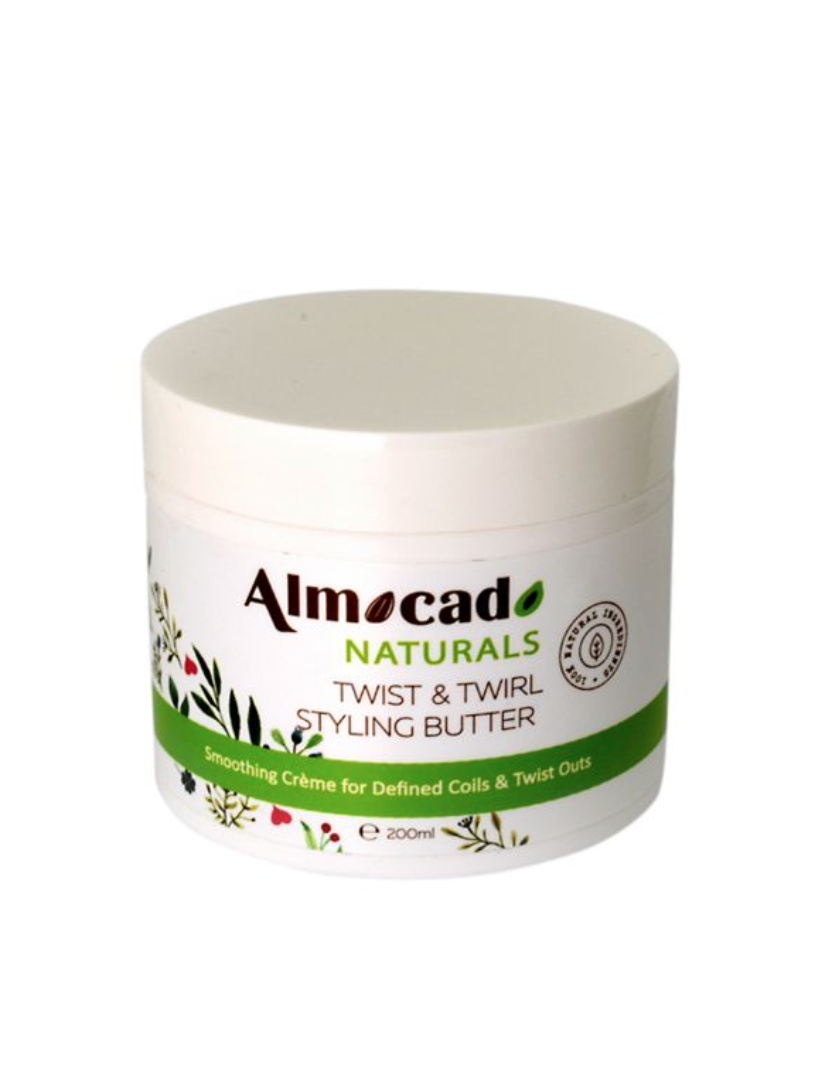 Share the love with your friend
Complete the form below and we'll email your friend about this product
You'll earn 10 reward points with this purchase.
Be the first in the queue!
We're sorry we're out of stock but, if you fill out your details below, we can let you know as soon as we've made the next batch.
How To Use:
Moisturising: After shampooing/conditioning, dispense product into your palms and distribute throughout your hair from roots to ends.
Twirling: Apply as above, then scrunch to create curls, or twirl strands between your fingers to create curls. Allow to air dry.
Twisting Apply to damp hair before braiding, cornrowing or twisting. Hair can be dampened first with one of our hydrating spritzes.
For a deep conditioning treatment apply required amount to clean wet hair, cover with a cap or warm towel. Apply heat if desired. Rinse out.
Steaming Apply as for deep conditioning but do not cover while applying steam
A tropical fruit  cocktail of Mango, Avocado, Castor, Coconut and Shea drizzled through with natural Lavendar extracts combined with effective conditioners to help tame frizzy hair and fly aways, add light hold to your twists and your edges, and a dash of vitamin B for added strength - this lightweight buttery cream is perfect for twisting and braiding. 
Botanicals: Distilled Water, Lavendar Hydrosol, Panthenol (Pro Vitamin B)
Plant butters: Shea Butter, Mango Butter, 
Plant oils: Avocado Oil, Castor Oil, Coconut Oil
Humectants: Yes, Vegetable Glycerin
Conditioning Agents: Polyquaternium 7, Cyclopentasiloxane, Guar Gum (Guar Hydroxy Propyltrimonium Chloride)
Detangling Agents: Cetrimonium Chloride
Fatty Alcohols: Cetyl Alcohol (also a cationic conditioner)
Fragrance: Yes, Caramel Vanilla
Emulsifer: Yes: Cetearyl Alcohol and Polysorbate 60
Protein: No
Preservative: Yes: Phenoxyethanol & Ethylhexylglycerin
Aqua, Lavender Angustifolia Distillate, Vegetable Glycerin, Cetearyl Alcohol and Polysorbate 60, Butyrospermum Parkii (Shea Butter), Mangifera Indica (Mango) Seed Butter, Cocos Nucifera (Coconut) Oil, Ricinus Communis (Organic Castor) Seed Oil, Cetyl Alcohol, cyclopentasiloxane, Persea Gratissima (Avocado) Oil, Cetrimonium Chloride, Phenoxyethanol & Ethylhexylglycerine, Polyquaternium 7, Panthenol, Fragrance Guar Hydroxy Propyltrimonium Chloride, 
Reviews
I love Almocado Annettes productsI love Almocado Annette's products which are natural and work well with my hair, there's even products for locks
Brings out curls to lifeJust received my box of Almocado products from Almocado. I can't wait to try some of the new products which have just come out. I discovered Annette's product at Curlvolution last year, and I am so happy I spoke to her and tried out her products because they are absolutely amazing on not just my thick, curly multi textured hair, but great on Jasmine's fine, wavy Asian hair. They leave our hair soft, manageable, moisturised and smelling so good! Anyone who knows me will know that I'm very particular about not just what I eat, but what I put on our hair and our skin. I love that Annette's products are handmade, gentle but effective, and cruelty free, without parabens, petrochemicals and both sodium laurel sulphate and sodium laureth sulphate. The shampoo leaves my hair clean but not feeling stripped of moisture, and the twist & twirl buttercream is what I use everyday alongside the sprays which brings out curls to life! Thank you Anette! X
an awesome productThank you for creating such an awesome product! My hair absolutely loves the stuff it's such a lovely thick but smooth consistency, smells delicious and really keeps my hair moisturised and curly.
fantastic productI have been searching for a product that moisturizes (my hair is soo dry), helps to keep the definition of my twist outs and protects my hair from the humidity of the gym (I'm a instructor)... TWIST & TWIRL IS IT!!! I have natural 4b/c hair and I leave my hair in twists for 1 week and 2nd week twist out. Also I purchased Almocado Silk (Avocado Honey Hibiscus Silk Spritz)another fantastic product!!!and these products smell gorgeous.. Thank Annette my search is finally over!! I'm spreading the word!!
A really great productWe are enjoying the use of twist and twirl, it's a really great product. I use it to detangle (really potent for that use) my daughter's hair and for her twist, love it and also love the new labelling colours too.
thank you my hair guruThat hair stuff you gave me is so good Look How good my curls are! I thank you my hair guru
Products are lovelyIm in loooooooove!!!!! Thank you muchly!! Products are lovely! Had to stop my little one from eating the Twist and Twirl Buttercream lolol!
Leaves the hair soft and manageableThis product leaves the hair soft and manageable, also has a good fragrance.
Love Love Love this productLove Love Love this product ! love the texture,the smell and a little goes a long way,works wonders for twist too! I use it for my 18 months old hair to detangle before wash and use it as LOC method her hair is so soft and manageable. Thanks Annette for this great product !
Leave a review