Herbal Hair Oil
Size: 0.17kg

Product Details

Stimulating Nourishing Hair & Scalp Oil

New formula - in honour of Alopecia Awareness Month, formulated to stimulate the follicles and promote a healthy scalp using organic herbs and essential oils proven to improve circulation, encouraging your body to bring nutrients to the hair follicles.

We created this alongside the Herbal Hair Masq (conditioner and scalp treatment). Each product is designed on a base of organic plant based ingredients- no animal fats are included. Even the essential oils used are organic and each one has been selected for its therapeutic properties - as well as their uplifting aromas. Rosemary, Sage, Peppermint and Bay have been selected for their rubefacient (stimulating) qualities and have long been used by traditional herbalists to treat hair loss and improve the condition of the scalp.
Sorry!
We're sorry that we're currently out of stock of this product.
But, if you put your email address below we can let you know as soon as it's available.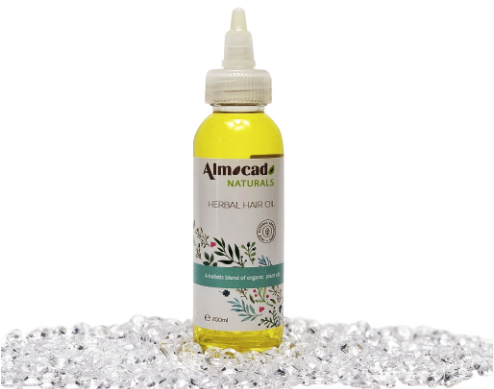 Send to a friend
Herbal Hair Oil
How To Use:
Scalp Massage: make sure you gently rub a small amount in daily, take care to move your scalp and to use a firm but gentle when you massage as we don't want you to be scrubbing fragile emerging hairs away or damaging your follicles.Be patient - it can take 3-6 months before you see significant changes.
Sealant: After spritzing, apply to damp hair to seal in moisture.
'Greenhousing'/Overnight Conditioning: For an extra treat you can apply the oil and cover with a conditioning cap (in the same manner as one would if you were 'greenhousing' overnight. In the morning, your hair will feel soft and your scalp will be suitably conditioned.
Hot Oil Treatment: You can also use these oils as hot oil treatments by decanting the required amount into a suitable container and letting it stand in a container of hot water until the oils reaches the desired temperature - before applying to your hair.
Key Ingredients:
Shea Oil : Highly emollient to help relieve dryness.
Avocado (Persea Americana) Oil: rich, penetrative, moisturising, and protective; high in vitamins, protein, lecithin and fatty acids,
Organic Rosemary (Rosmarinus Officinalis): stimulant, rubefacient, increases circulation (locally),
Organic Bayl (Ocimum Basilicum): promotes healing, health, and improves scalp circulation which, in turn, promotes hair growth. It is also anti-inflammatory, anti-bacterial .
Organic Ginger(Zingiber Officinale) warming oil, improves circulation helping to clear the body of toxins, and bringing fresh nutrient filled blood to the hair follicles.
Grapefruit (Citrus Paradisi) stimulating the lymphatic system and thereby clearing the body of toxins, promotes hair growth when used in hair products.
Helianthus Annuus (Sunflower) Seed Oil; Butyrospermum Parkii (Shea Oil);  Ricinus Communis (Organic Castor) Seed Oil; Persea Gratissima (Avocado) Oil; Isoamyl Laurate, Isoamyl Cocoate; Mentha Piperita; Rosemarinus Officinalis; Moringa Oleifera Seed Oil; Salvia Officinalis; d-Alpha Tocopherol; Lauris Noblis; Lavandula Angustifolia; Lauris Noblis; Rosmarinus Officinalis (Rosemary) Leaf Extract
Question:
Herbal Hair Oil It's made by Uk or others country. In need the information. Thanks
Asked by Hefazul karim
Answer:
All our products are handmade by the Almocado family in the UK
Question:
Is the oil suitable for people with tree nuts and sesames seed allergy? Thanks
Asked by Nicola Adams
Answer:
Good morning, we've updated our listing as we can see the full ingredients were not visible. There are no nut oils in this formula.
Ask a question
Customer Reviews
This thang is the bomb. Can't live without it
has left my locs feeling so softThis has left my locs feeling so soft. I used to use castor oil on my roots but replaced it with this Herbal Hair oil. I apply it to the scalp and just let it work its way down. Heaven!
I love this oilI love this oil. There is something about that sage that is so potent but lovely. My daughter also loves the oil - she says it leaves her hair so soft!
Leave a review