Balancing Hair & Body Oil
Balancing Hair & Body Oil
With organic Lavender, Ylang-Ylang & Sweet Orange oils
Blended with pure organic Golden Jojoba, nutrient-rich Avocado, emollient Sunflower and Argan oils drizzled through with organic essential oils of Lavender, Sweet Orange, Geranium and Ylang Ylang to give you an uplifting aromatherapy experience while nourishing your skin with natural goodness.

The combination of aromatic Ylang Ylang, balancing Geranium and healing Lavender help balance sebum production in the skin and create a sense of calm.

Only premium organic cold pressed oils are used in our aromatherapy blends and we've added natural Vitamin E and Rosemary CO2 anti-oxidants to help keep it stable. To prolong shelf life - please store away from direct sunlight and sources of heat.

A winning after-sun or after shower oil. Easily absorbed as a massage oil. Now you can start your day with a splash of sunshine.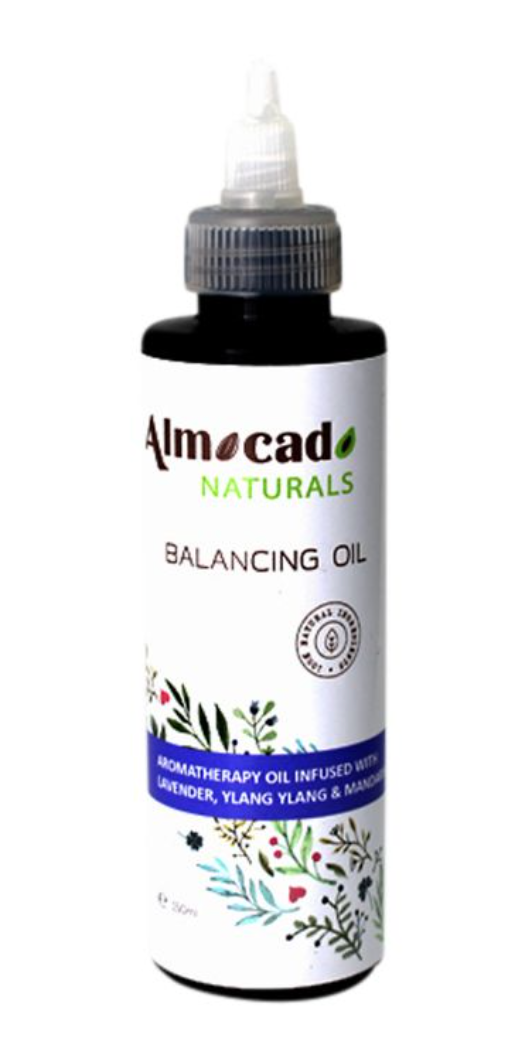 Share the love with your friend
Complete the form below and we'll email your friend about this product
You'll earn 13 reward points with this purchase.
Be the first in the queue!
We're sorry we're out of stock but, if you fill out your details below, we can let you know as soon as we've made the next batch.
How To Use:
Daily Styling: Dispense a small amount into your palms and distribute throughout your hair - focusing on the ends.
Hot Oil Treatment: Decant the required amount into a suitable container and letting it stand in a container of hot water until the oils reaches the desired temperature - before applying to your hair. Cover with a plastic cap or warm towel for up to 30 minutes - or allow to penetrate for 4 hours for super intense conditioning
• Jojoba oil (Simmondsia Chinensis) which is actually not an oil but a wax which becomes liquid at room temperature but you needn't worry about any 'waxy build-up' on your scalp or hair because at a molecular level, Jojoba is the most similar to our scalp and skin's natural oil (sebum) - in aromatherapy it can act as a sebum regulator which is why it is popular in balancing blends designed to regulate sebum production.
• Sweet Almond (Prunus Amygdalus Dulcis) Oil: rich in protein and vitamins A, E, B1, B2, & B6; protective and nourishing; helps relieve dryness, softens hair and skin and is easily absorbed. (A staple among Massage Therapists and traditional hairstylists).
• Ylang Ylang (Cananga Odorata): calming, sedative, relaxing, sebum balancing
• Geranium (Pelargonium graveolens): improves circulation, balances sebum, uplifting.
• Lavender (Lavandula Angustifolia): conditions the scalp and prevents the build up of excess sebum. It's antiseptic qualities disinfect the scalp, help dandruff and hair loss
Avocado Oil
Safflower Oil
Soybean Oil
Vitamin E
Mandarin Oil
Reviews
worth its weight in GOLDAlmocado's Balancing Scalp & Hair Oil is known as 'The HEALING OIL' in my house!!! Apart from its wonderfully aromatic scent, which must have something to do with the Ylang Ylang ( one of my favourite essential oils) and the balance of the other oils, this 'healing oil' brought hair back to my bald patch!!! Now any product that can do that is worth its weight in GOLD!!! The back of my head is particularly sensitive and after i noticed a small pump, which developed into an ever increasing area where i was gradually losing hair, my attentive and conscientious locticians 'Bespoke hairstyles' recommended that I see Almocado. I am soooo glad that i did. I massaged the smallest drop of Almocado Balancing Hair and Scalp Oil onto the said patch and with a little patience, I am glad to report that my hair has grown back!!!! I continue to use my 'Healing Oil' because, as some clever person said,'if it ain't broke, don't fix it'. I am healed and continue because i do not want to 'get sick again. I love it xxx
Love shopping with almocadoHelps my #SmallLocks stay on point. Love shopping with almocado #QualityProducts #AlmocadoLondon #MelsLocks #Locks"
I love the aroma of this oil. It is soothing to my scalp and makes my hair smell lush
Cant stop smelling my hair I just received this oil. I cant stop smelling my hair
Leave a review