Avocado Hair Milk
Formerly the Replenishing Avocado Honey Hair Milk
Moisturises. Strengthens. Conditions
As of July 2018 we no longer use bee or silk worm products in our hair care range. This is one of a series of small steps towards becoming a wholly vegan brand and considering the welfare of the animals we share this world with. Our labels and branding have been updated to reflect this, you will note a name change on the new labels from Avocado Honey Replenishing Hair Milk to "Avocado Hair Milk". 
This luscious easily absorbed treatment is what your precious coils have been crying out for. Rich in moisturising soy lecithin and honey plant keratin; and packed with Pro-vitamin B and Silk  oat silk, this Moisture Milk strengthens, moisturises, improves manageability and reduces breakage while delivering botanical extracts and nutrients to the hair shaft.  
Additionally, our milk combines premium ingredients to aid detangling, reduce friction when combing/brushing and help keep hair soft and supple. Suitable for use as a leave-in conditioner and/or as a daily moisturising hair lotion. Perfect for all hair textured hair types (processed or virgin).
This product is great for maintaining loose hair, flat twists, cornrows, single/double twists, Sisterlocks, traditional dreadlocks, braids and afros. . Silicone, paraben and petro-chemical free.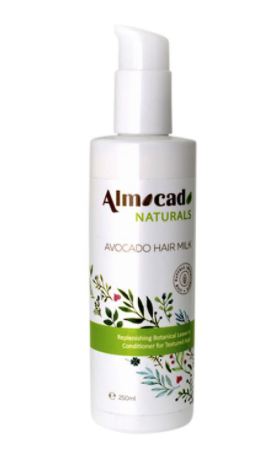 Share the love with your friend
Complete the form below and we'll email your friend about this product
You'll earn 14 reward points with this purchase.
Be the first in the queue!
We're sorry we're out of stock but, if you fill out your details below, we can let you know as soon as we've made the next batch.
How To Use:
Method 1: Pump required amount of product into your palms and distribute throughout hair, scrunch lightly if your hair is short (e.g. TWA); or use to smooth edges into a ponytail. Can also be used to refresh existing twists or braided hairstyles.
Method 2: Use your fingers to smooth product into strands or locs from root to tip before styling, twisting, braiding etc.
Method 3: For detangling, apply liberally before finger-detangling, combing with a wide tooth comb or suitable brush.
Works well with: 
Moisture Mist Spritz, Curl Cocktail Spritz and Almocado Hair Oils. (Use the spritz before application not afterwards).
Distilled Water, Aloe Vera, Lavender Water, Rosemary Water , Organic Shea Butter, BTMS, Organic Avocado Oil, Organic Jojoba Oil, Sweet Almond Oil (this can be substituted upon request), Organic Cocoa Butter, Cetrimonium Chloride (Detangling and Conditioning agent), Organic Soy Lecithin (strengthens, rich in vitamin B), Hydrolized Honey(moisturising agent), Hydrolized Wheat Protein (restorative agent), Nettle, Horsetail, Marshmallow, Sage, Hibiscus, Panthenol*, Fragrance and Paraben-free Preservative, Cationic Guar (Conditioniing agent).
Reviews
Lovely products, leave my 4c hair extremely soft and manageable. Coming from using another brand for my LOC/LCO wash and go routine , it took me a while to get used to how creamy these are, which is a good thing as I feel my hair doesn't shrink as much. The Hair Silk is truly silky and has a sweet smell that reminds me of caramel. Yummy
Not too heavyAlmocado's products are not too heavy. I think the leave in conditioner is great
A noticeable differenceGreetings, I just received my order of Almocado products and I must say it's better than any product I have ever used. I've had Sisterlocks for 2 1/2 years and have been natural for close to 15. The shampoo got my hair so clean that it had a natural glow. It was a noticeable difference. My hair was clean, it had body, and it smelled fabulous. The Avocado Honey & Milk leave in conditioner soften my hair and didn't straighten out my waves from my braid out. WOW! Most leave-ins are water based and my hair goes flat after I apply it. This product worked just the opposite....and my hairs smells wonderful. I just wanted you to know how pleased I am with your products and will be spreading the word. Let me know if you start selling retail here in the U.S. Peace and Blessings
LuxuriousReally love the almond avocado honey hair milk. Luxurious x
my hair LOVES your productsThanks Annette ... my hair LOVES your products... I've had hair issues for YEARS!!!! Literally nothing worked.. either too oily too heavy... I've now cut my hair .. all the dead rubbish and my hair DRINKS up your stuff like .. WOW!! It's it amazing condition.. only that it's short and not very exciting to look at... anyhoo thank you thank you thank you
Leave a review