Avocado Hair Silk
Avocado Hair Silk - Replenishing Leave in
NB Please note that as of July 2018 we no longer use bee or silk worm products in our hair care range. This is one of a series of small steps towards becoming a wholly vegan brand and considering the welfare of the animals we share this world with. Our labels and branding have been updated to reflect this and the name has been changed to "Avocado Hair Silk". 
Add a touch of silk to your curls with this replenishing leave-in conditioning treatment
This emulsified spritz is a cocktail of nourishing fruit oils, purified water, hair loving herbs, red hibiscus and a dash of love all ready to caress, refresh and condition, leaving your curls silky soft. You can spritz and go, or apply additional oil/butter as a sealant if that's what your hair prefers.
Its just what you need to finish wash-n-go hairstyles or add moisture to hair before sealing and styling. Great for moisturising, softening and even for detangling your precious coils.
Applying an emulsified leave-in conditioner/spritz to the hair helps to moisturise and nourish your hair by delivering oils and water soluble ingredients in one product.

Alcohol, Paraben, Almond, Bee and Petro-chemical product free.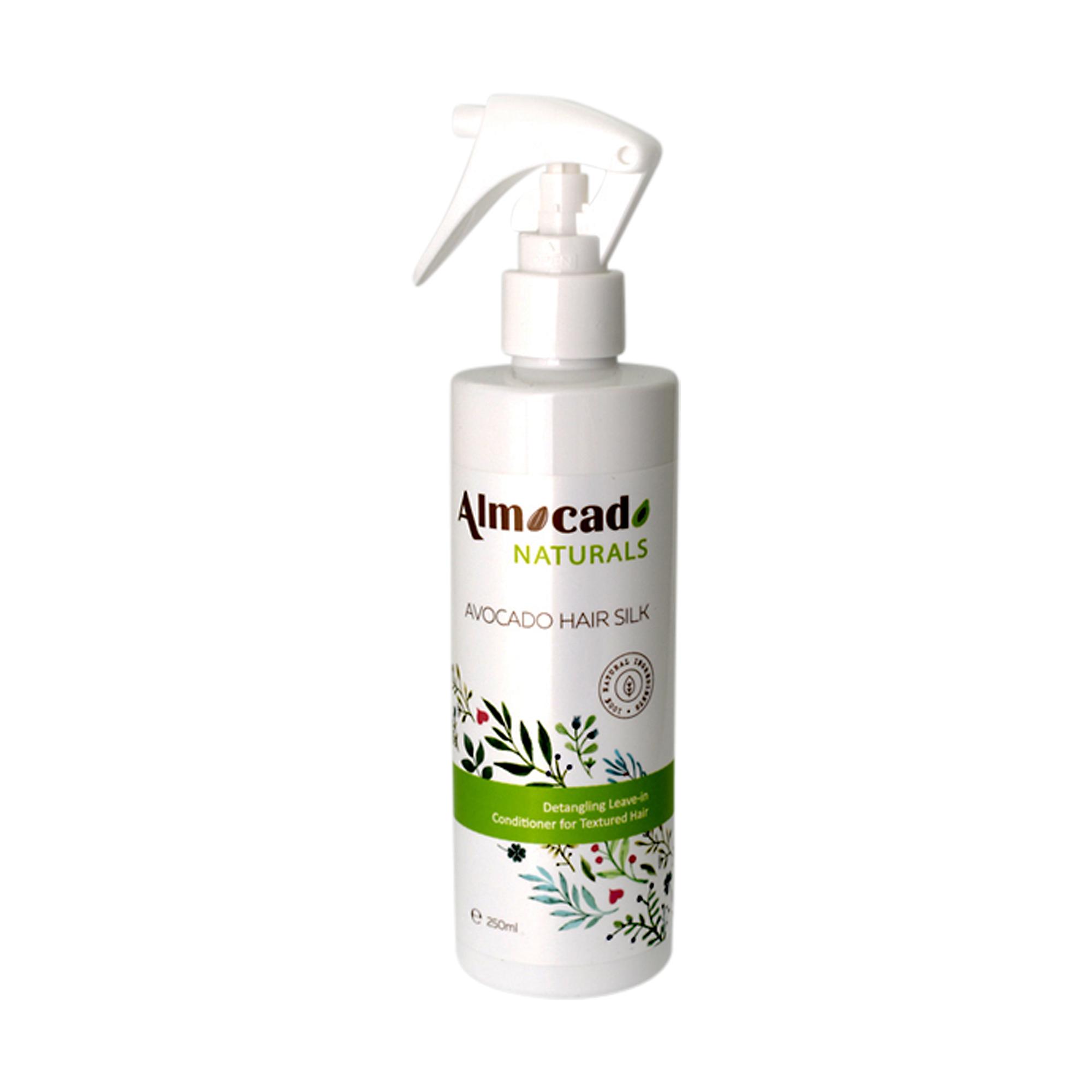 Share the love with your friend
Complete the form below and we'll email your friend about this product
You'll earn 13 reward points with this purchase.
Be the first in the queue!
We're sorry we're out of stock but, if you fill out your details below, we can let you know as soon as we've made the next batch.
How To Use:
Spritz and smooth into coils with your fingers. For coily hairstyles (e.g afros) spritz, scrunch and go.
For detangling: Apply liberally to sections of damp/dry hair prior to detangling with fingers or a wide tooth comb.
Daily Conditioning: Mist lightly and work in gently to refresh hairstyles and afros.
Works well with: 
Avocado Hair Glaze, Avocado Hair Milk and Almocado Hair Oils. (Use the mist before applying one or more of these).
Aqua, Cetrimonium Chloride, Glycerin,  Cetearyl Alcohol and Polysorbate 60, Butyrospermum Parkii (Shea Oil), Persea Gratissima (Avocado) Oil, Adansonia Digitata (Baobab) Seed Oil, Behentrimonium Methosulfate (and) Cetearyl Alcohol,Fragrance , Phenoxyethanol & Ethylhexylglycerine, Horestail Extract, Althea Officinalis, Urtica dioica, Cetyl Alcohol, Xanthan Gum, Oat Silk, Panthenol, Polyquaternium 10
Reviews
Lovely products, leave my 4c hair extremely soft and manageable. Coming from using another brand for my LOC/LCO wash and go routine , it took me a while to get used to how creamy these are, which is a good thing as I feel my hair doesn't shrink as much. The Hair Silk is truly silky and has a sweet smell that reminds me of caramel. Yummy
The Hair Silk leave-in is amazing - I love it! Using it on my sisterlocks, which had been so thirsty. This leaves them feeling so deeply moisturised, soft and bouncy. I'm so pleased! The product does have quite a strong sweet smell, which I'm still getting used to - some love it, for me it's maybe too sweet - but the softening result is so good that I'm not knocking a star off for that! I've bought some for my sister too and I will definitely be buying this again (and again!). This is the only Almocado product I've used so far but I wait to try more of the range!
At last!Like the Etta James track , discovering Almocado products has been like coming home, AT LAST. I've struggled so much with my hair over the past few years and finally, FINALLY my hair is feeling nourished, moisturised and growing again. This Silk spritz, together with the Hair milk and Twist n twirl creme are now my go-to products. Definitely worth a try and the Almocado customer service is second-to-none!!
Caron WeekesAlso I purchased Almocado Silk (Avocado Honey Hibiscus Silk Spritz)another fantastic product!!!and these products smell gorgeous..I'm spreading the word! Just stating the truth, I'm so glad I've found ur products, I don't want to say my hair's difficult... But your products make it easier?? Anyway I LOVE my hair!! (Now) So THANK U!!! Xx
Amazing leave-in, moisturizerAn amazing leave-in, moisturizer. Love it for my wash and go's.
I cant keep my hands out my hair!I was worried when i sprayed this product into my freshly washed hair,as it came out white but once worked into my coils my hair felt soft and moisturised. Its great as a daily moisturiser/refresher as its plumps up curls,doesnt leave hair feeling greasy just touchably soft unfortunately as i cant keep my hands out my hair!!! Also great for finer curl textures as it doesnt weigh the hair down even when followed with the sheen buttermelt or moisture cream.
gentle but effectiveJust received my box of Almocado products from Almocado. I can't wait to try some of the new products which have just come out. I discovered Annette's product at Curlvolution last year, and I am so happy I spoke to her and tried out her products because they are absolutely amazing on not just my thick, curly multi textured hair, but great on Jasmine's fine, wavy Asian hair. They leave our hair soft, manageable, moisturised and smelling so good! Anyone who knows me will know that I'm very particular about not just what I eat, but what I put on our hair and our skin. I love that Annette's products are handmade, gentle but effective, and cruelty free, without parabens, petrochemicals and both sodium laurel sulphate and sodium laureth sulphate. The shampoo leaves my hair clean but not feeling stripped of moisture, and the twist & twirl buttercream is what I use everyday alongside the sprays which brings out curls to life! Thank you Anette! X
Using them for almost a year nowHow can one little box by @almocado fill me with so much joy
Watch our video review here: https://youtu.be/g4vomWzRln4
LOVE LOVE LOVE this spritz!
You can see the difference"Loved the curl mist and leave-in conditioner. You can see the difference. Their hair looks and feel softer. Can't wait to receive the hair whip. Oh yeah, new order coming soon."
Thank youNothing detangles my daughter's hair like the Silk Spritz. Thank you, thank you, thank you.
Just what I wantedBefore my hair was always feeling very dry no matter how much I moisturising my hair would get. Now it's just on point, just what I wanted, again thanks to almocado. Plus one of the best thing is it's NON greasy which is a big plus for me as that's one of my big turn offs in a hair product...I happy I can lay down anywhere even on my pillow without leaving my mark ( lol you know were I'm coming from right ladies? lol)
So in love with your products!"Thanks Mrs. Almocado... I placed another order yesterday! I'm so in love with your products my sister lock consultant said my hair grew an extra 2 inches. I purchased the larger bottle of the silk spritz this time I tried it on my 3yrs old...that stuff is amazing!!!! Your hands are blessed!"
softness of my hair last the whole weekMy hair soaks this condition in and begs for more, I use this after washing and it helps to stretch my hair. It smells gorgeous and the softness of my hair last the whole week.
Leave a review