Stage 1 Peppermint Tea Tree Shampoo
Stage 1 Peppermint Tea Tree Shampoo
Stage 1 Peppermint Tea Tree Shampoo
Clarifying Shampoo with Organic Rosemary, Peppermint & Tea Tree
A proven shampoo for cleaning natural hair and interlocked strands. pH balanced and deep cleansing, this shampoo clears grime and unwanted residue while simultaneously nourishing and protecting your locs and curls, effectively restoring natural shine and bounce. 
This blend is fortified with seaweed extract, nourishing blue lupine seed extract, and a dash of pro vitamin B to strengthen, replenish and protect - just like the original formula - but we've also infused organic essential oils of Rosemary, Peppermint and Tea Tree to provide an aromatherapy cleansing experience.


Follow with our naturally conditioning hair tonic: Peppermint Tea Moisture Mist
Please note - this shampoo is 100% hand made and as such there may be slight variations between batches.

Below is a video review of this shampoo. Please also read this article on why I formulated this Seaweed Shampoo.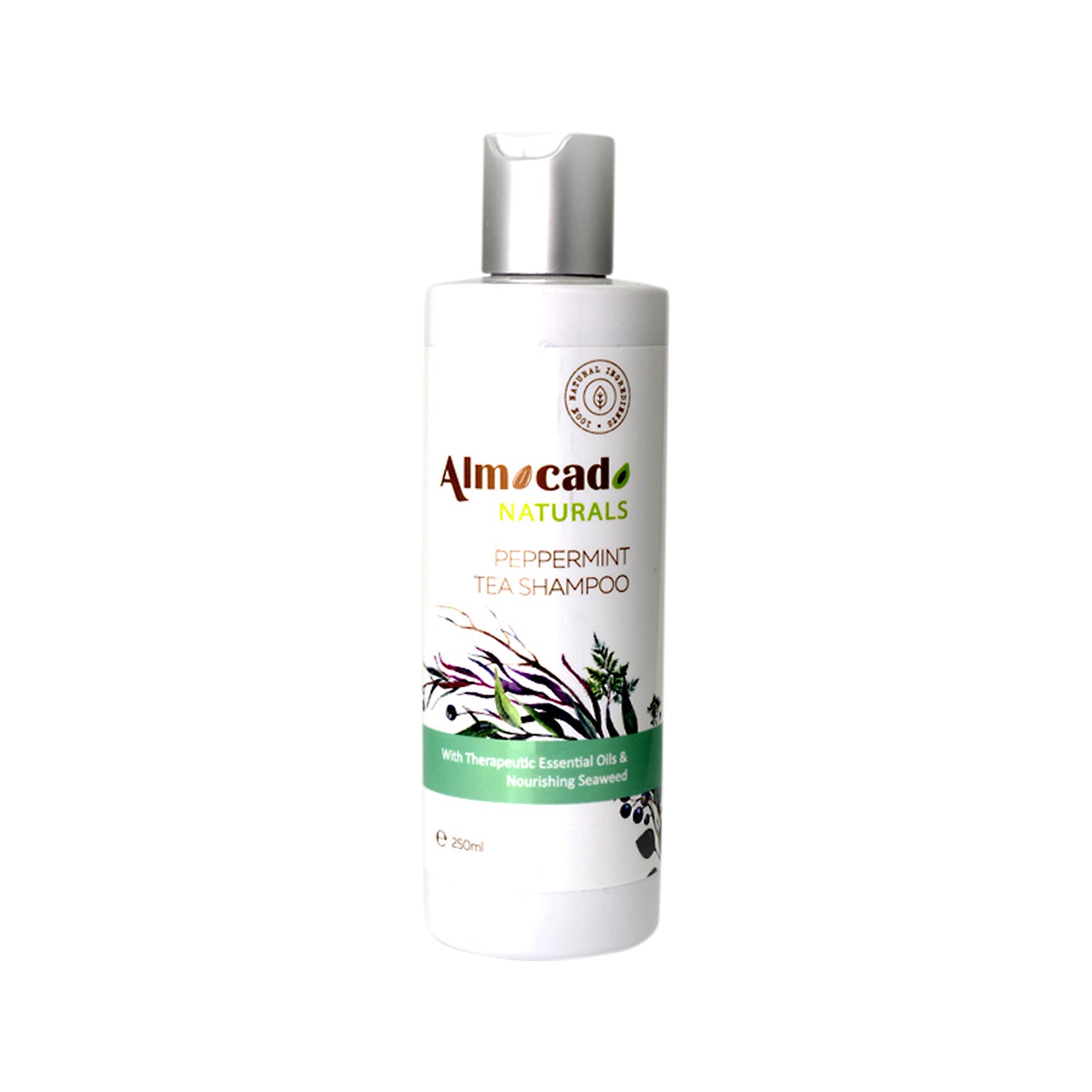 Share the love with your friend
Complete the form below and we'll email your friend about this product
You'll earn 15 reward points with this purchase.
Be the first in the queue!
We're sorry we're out of stock but, if you fill out your details below, we can let you know as soon as we've made the next batch.
Apply directly to the roots, lather gently to thoroughly cleanse the scalp, before massaging into the rest of your hair.
Product may be diluted in a spray bottle and applied directly to the roots for easier application.
Rinse thoroughly.
Repeat if required.
 Aqua, Mipa Laureth Sulphate, Cocoamidopropyl Betaine, Cocamidapropyl Betaine, Glyceryl Oleate, Coco-Glucoside, Sodium Lactate, Phenoxyethanol & Ethylhexylglycerine, Xanthan Gum, Mentha Piperita, Rosemarinus Officinalis, DL-Panthenol, Hydrolised Wheat Protein, Melaleuca Alternifolia (Tea Tree) Leaf Oil, Seaweed Extract, Spirulina Extract, Liquid Chlorophyll, Citric Acid.
Key Ingredients:
Seaweed and Spirulina are rich in vitamins, minerals and antioxidants, all of which are needed by hair follicles to maintain healthy growth.
D-Panthenol penetrates the hair shaft to strengthen from within and also forms a light protective film - which can help hair appear thicker.
Sodium Lactate is an oil-alternative, that occurs naturally within our bodies, it moisturises the hair without causing slippage
Mipa Laureth Sulphate is an effective cleanser sourced from Coconut and Palm Kernel Oil.
Rosemary: is a stimulating, rubefacient essential oil; helps to encourage the flow of blood to the scalp, bringing essential nutrients to the hair roots, and while simultaneously removing waste.
Peppermint: is both cooling and anti-inflammatory which means it is both soothing and helpful in combating itchiness and irritation.
Tea Tree is naturally medicinal boasting antibacterial and antifungal properties, making it a popular oil in combat against dandruff and infections.
Reviews
At first I was scared to use anything but I had run out of the starter sisterlock shampoo and I was recommended this by my loctician. This shampoo here is just Wow. All that itch and dull look was erased after one wash. Not to mention the new bouncy look and shine of my sisterlocks (1 year old). The peppermint and the fresh tingle is refreshing. I'm the pat after washing my hair there is that dull residual look and frizz however with this shampoo and with a little amount my hair feels so clean. No more dull my scalp feels cleansed and free of any build up. I would be stocking up on this for sure.
I have locs and WHEN I SAY…that sometimes i feel like scratching off my entire scalp due to the constant itching please believe me. That was until I received my shampoo yesterday. LISTEN…I washed my hair and when it graced my scalp with that cold refreshing minty solution..I swear I heard angels singing
My fellow new sister locked sista's I have received the relief to the itch without damage to your installation. Y'all it's like a peppermint kissed my scalp in all the right places. I'm over here bout to praise dance.
an excellent shampooThe shampoo is designed for Sisterlocks and is an excellent shampoo, I am 9 months sisterlocks and I have met the maker Annette at Almocado, and her products are excellent. Worth using 100%, smells great (not over powering), and i dilute and use in an applicator bottle. Give it a try you will not regret it.
Exceptional experienceFrom initial purchase to use of the product, Exceptional experience! I submitted my order on 1/26/19 and received my items on 2/4/19. As the adage goes, first impressions are lasting and upon opening my package I appreciated the handwritten thank you. Too often in this techno driven age, merchants forget the importance of the "personal touch" which immediately made me felt valued as a customer. So on to the main event, I just completed my first wash with the peppermint tea tree shampoo and I was not disappointed. I am five months sister locked and have soley been utilizing the sister lock starter shampoo. However I can honestly say this is the best my hair and scalp have felt since embarking on this journey . I also purchased the seaweed strands together shampoo which smells divine. I can't wait to try it for next weeks wash. At this juncture all I have to say is, God bless and Keep up the good work.
Leave a review