Yes Yuzu Conditioner
Size: 0.29kg

Product Details

Natural Conditioner - Yuzu

Welcome to our new range of simple conditioners, formulated to complement our new range of Natural Conditioners!

Each conditioner is made with minimally processed ingredients: a powerful plant butter/oil combination,  a fatty alcohol, a detangling agent, a botanical and an allergen free fragrance to uplift and invigorate. Suitable for all hair types.

NB: As these are new to our line, they will initially be made to order, your lead time to fulfilment may be increased accordingly.  
Sorry!
We're sorry that we're currently out of stock of this product.
But, if you put your email address below we can let you know as soon as it's available.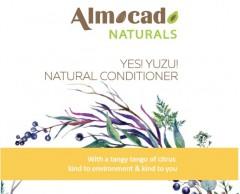 Send to a friend
Yes Yuzu Conditioner
How to Use: Section prior to wetting hair. Apply conditioner section by section and detangle hair if necessary.  Work through from ends to roots to ensure the hair is fully detangled and to minimise any breakage. Allow to penetrate for up to 30 mins before rinsing thoroughly. 
Aqua, Behentrimonium Methosulfate (and) Cetearyl Alcohol, Cetyl Alcohol, Cetrimonium Chloride, Butyrospermum Parkii (Shea Butter), Stearalkonium Chloride, Helianthus Annuus (Sunflower) Seed Oil, Sodium Benzoate & Potassium Sorbate, Fragrance, Polyquaternium 10, DL-Panthenol, Carica Papaya, Citric Acid. 
Plant Butters: Shea Butter
Plant Oils: Sunflower, 
Botanical Extracts: Papaya
Emulsifier: Behentrimonium Methosulfate (and) Cetearyl Alcohol (Cationic)
Fatty Alcohols: Cetyl Alcohol
Conditioning Agents: Polyquaternium 10, Vitamin B, Stearalkonium Chloride
Detangling Agents: Cetrimonium Chloride, 
Preservative: Sodium Benzoate & Potassium Sorbate
Smells like: Chinese Grapefruit
Question:
Can I use your conditioner and hair milk for my thick Locs. It needs a deep clean and it is dry Thanks
Asked by Marley
Answer:
Yes, you can use any of our handmade naturally loving conditioners on our locs. You may find that deep conditioning and a steam is enough to boost your moisture levels and so the hair milk is unnecessary.
However, you can use the Argan Hair Milk but make sure you apply it to the palms of your hands first and then massage it into your locs - this method works well for microlocs and Sisterlocks, so there's no reason to believe it won't work for thicker locs.
Ask a question
Customer Reviews
Be the first to review this product.
Leave a review