Peppermint Tea Tree - Moisture Mist
Peppermint Tea Tree - Moisture Mist
In July 2018 we made the decision to no longer use bee or silk worm products in our hair care range. This is one of a series of small steps towards becoming a wholly vegan brand and considering the welfare of the animals we share this world with. Our labels and branding have been updated to reflect this.

Almocado Moisture Mists are carefully blended with Aloe Vera and natural extracts to refresh and hydrate without feeling sticky or greasy.

They are naturally conditioning and pH balanced to help close the cuticles, thus improving the hair's ability to retain moisture. Perfect for adding a splash of refreshing moisture to curls, Sisterlocks, twist outs and braid outs while engaging your senses with fragrant aromas.


Key Ingredients:
pure distilled water (UK tap water can be a little heavy on metals like iron and copper which can attach themselves to the hair strands leaving hair looking dull and lifeless
Moisturizing Aloe Vera juice and Vegetable glycerin to help keep that moisture near to the hair strand, like a moist protective halo
hydrolised wheat protein not only does protein attach to the hair strand and fill in any gaps, but it's also able to penetrate the outer layers of your hair strands providing protection and additional moisture.
Natural Essential Oil therapy: Peppermint and Tea tree
Key Actions:
moisturises the hair.
closes the cuticles, promoting smoother hair.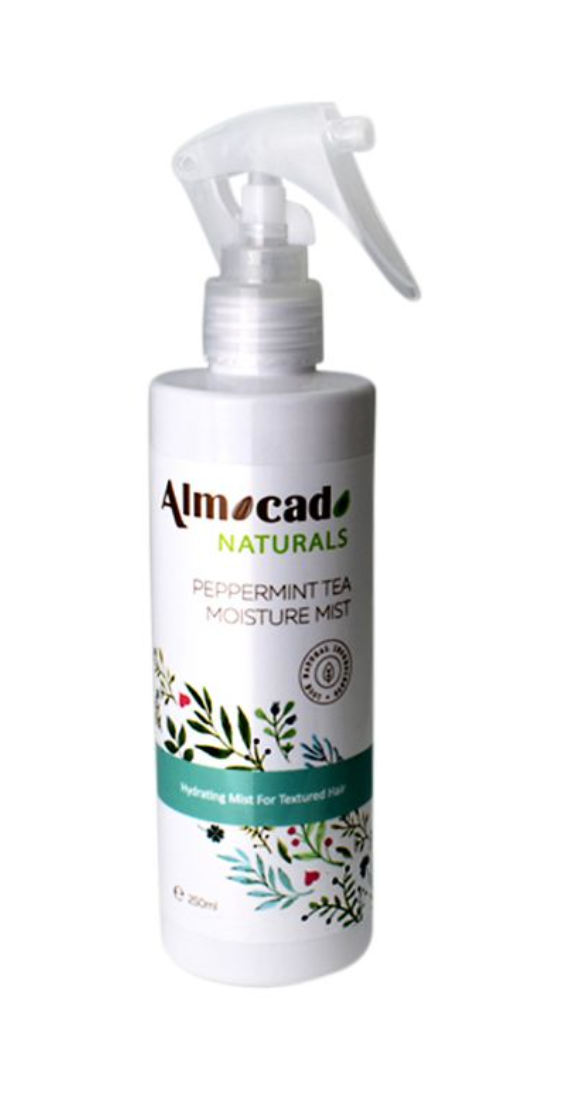 Share the love with your friend
Complete the form below and we'll email your friend about this product
You'll earn 12 reward points with this purchase.
Be the first in the queue!
We're sorry we're out of stock but, if you fill out your details below, we can let you know as soon as we've made the next batch.
Spritz liberally to add a soothing shot of moisture to hair. 
Can be used as part of the LCO /LOC and Maximum Moisture methods. 
Suitable for refreshing braids and cornrows as well as other protective hairstyles
When used after a workout at the gym, the Peppermint and Tea tree essential oils have a combined deodorising and antibacterial action - perfect post-workout if you have to wait until you get home before washing your hair.
Distilled Water, Mentha Piperita (Peppermint) Distillate, Mentha Verdis (Spearmint) Distillate, Aloe Vera, Melaleuca Alternifolia (Tea Tree) Distillate, Vegetable Glycerin, Polysorbate 20 (emulsifier), Hydrolysed Wheat Protein, Phenoxyethanol and Ethylhexylglycerin (Preservative to prevent fungi and mould growing in your product),Urticara Dioica (nettle) Extract, Equisetum Arvense (Horsetail) Extract, Mentha Piperita (Organic Peppermint ) Essential Oil.
Peppermint: is both cooling and anti-inflammatory which means it is both soothing and helpful in combating itchiness and irritation.
Tea Tree is naturally medicinal boasting antibacterial and antifungal properties, making it a popular oil in combat against dandruff and infections.
Reviews
Love all the way from the US! I use this product on my microlocs and my sons traditional locs and it is refreshing!
Honestly this spray (& all the products) are amazing. Revitalised my hair, minimised my itching and my hair grew so much while using this spray. Smells great. My only complaint would be I would love a bigger size!!
Love itI couldn't wait for my products to arrive. I just love the smells of Almocado's products. This has a lovely fresh minty smell just right for refreshing my sisterlocks after a sweaty work out at the gym. Love it love it love.
Amazing product Amazing product. I use it when I have my hair in single extensions. It helps sooth my scalp from the irritation and itching that I get when I have them in as I have a sensitive scalp. Tried different products and nothing has really worked until this
This is a great spritzThis is a great spritz! The scent lingers and keeps scalp smelling fresh. From the name of the scent I was thinking my head would smell like a big peppermint but it is a nice fresh, clean mint scent (if that helps anyone). I want to try to coconut one next
absolutely loveI absolutely love the peppermint moisture mist. It's exactly what I need after a work out in the gym to freshen up my hair. It has a lovely subtle smell of peppermint and is not greasy. Just perfect!
Leave a review