Hydrated Hair Kit
Size: 1.25kg

Product Details

Fast Track to Hydrated Hair

Please Note: There is currently a 3 week wait for this product.

Can't decide? Or do you want MORE.....?

Have it all then. Enjoy all four of our oil free hydrating hair mists with this packaged bundle. Perfect for hydrating your hair on a hot day (or after too many hours in centrally heated air), this product helps add a shot of herb infused moisture before styling and is pH balanced to seal your cuticles – helping to prevent further moisture loss.

Almocado Moisture Mists are carefully blended with Aloe Vera and natural extracts to refresh and hydrate without feeling sticky or greasy.

They are naturally conditioning and pH balanced to help close the cuticles, thus improving the hair's ability to retain moisture. Perfect for adding a splash of refreshing moisture to curls, Sisterlocks, twist outs and braid outs while engaging your senses with fragrant aromas.

When used after a workout at the gym, the Peppermint and Tea tree essential oils have a combined deodorising and antibacterial action - perfect post-workout if you have to wait until you get home before washing your hair.

Sandalwood Vanilla is a naturally relaxing aroma and sandalwood essential oil is thought to help with dry scalps. 

Cherry Vanilla ushers in memories of balmy summers picking fruit from the orchards or maybe playing double dutch on the sidewalk while popping cherry bubble gum!

And Coconut Water says 'catch me under a palm tree as I reminisce on that tropical holiday where you drank far too much and danced like no one was watching' :) 
Sorry!
We're sorry that we're currently out of stock of this product.
But, if you put your email address below we can let you know as soon as it's available.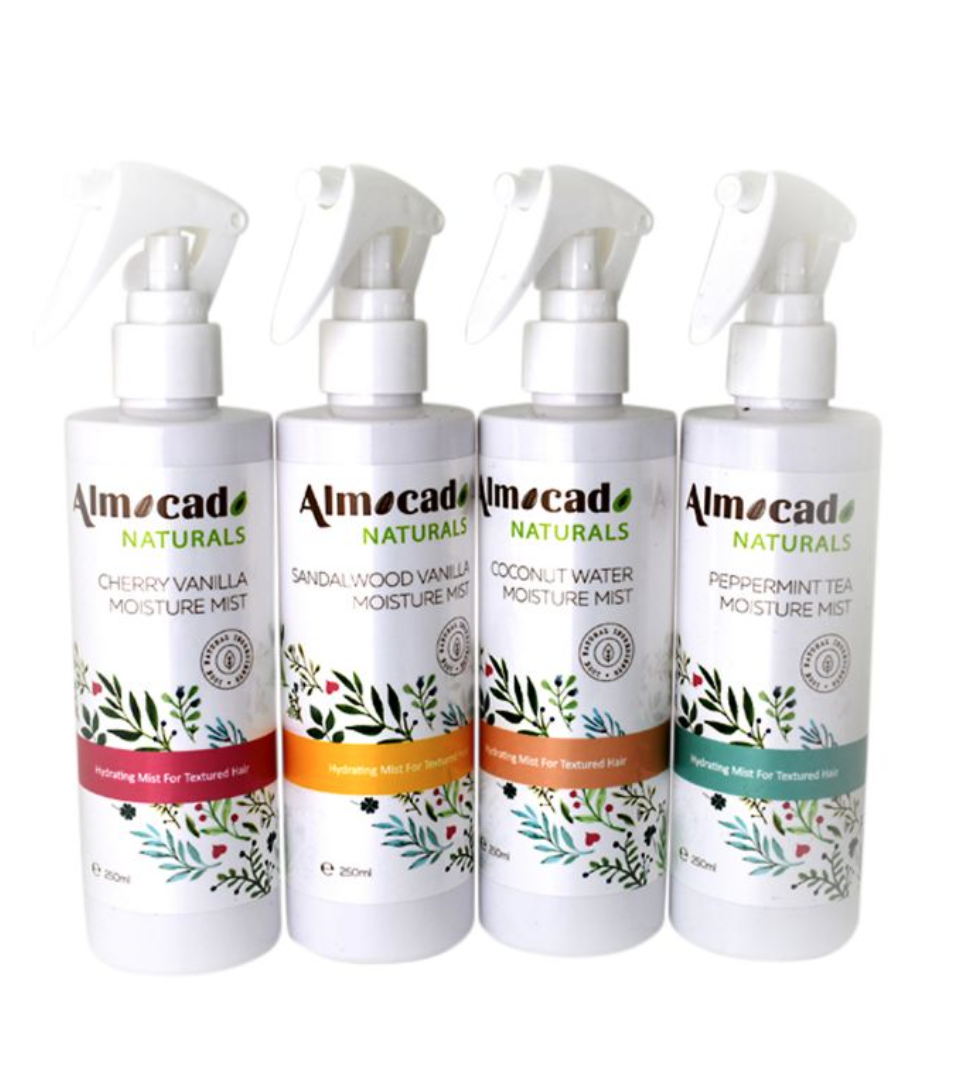 Send to a friend
Hydrated Hair Kit
Question:
Hi how soon in loc journey can you use this?
Asked by Chauntelle
Answer:
You can use any of the Moisture Mists from Day one
Question:
Previously i have been using rose water daily for sister locks , can i continue to do so and also use this product? How often should I mist my hair using the mist?
Asked by Ms Vivien Erica Simpson
Answer:
Hi,
You shouldn't need to use both but you could do if you want to.
You could also alternate uses between the two.
The difference is that the Rose water available in shops doesn't usually contain aloe vera, burdock root or horsetail like our moisture mists do.
How often you use it depends on your location: someone living in a very dry climate will need more than someone in a humid area.
Ask a question
Customer Reviews
Be the first to review this product.
Leave a review