Coconut Water- Moisture Mist
Coconut Water- Moisture Mist
Size: 0.28kg

Product Details

Light Hydrating Hair Tea

Think of these as a nourishing hair tea! Our oil-free hydrating mists are perfect for adding a refreshing splash of proteins, herbs and moisture to Sisterlocks, twist outs and braid outs while engaging your senses with fragrant aromas.

Each Moisture Mist is carefully blended with natural Aloe Vera and herbal extracts to refresh and hydrate without feeling sticky or greasy.

Key Ingredients:
pure distilled water (UK tap water can be a little heavy on metals like iron and copper which can attach themselves to the hair strands leaving hair looking dull and lifeless
Moisturising Aloe Vera juice and Organic Vegetable glycerin to help keep that moisture near to the hair strand, like a moist protective halo
hydrolised wheat protein which is able to penetrate the outer layers of your hair strands providing protection, strength and extra moisturising power
Herbal extracts of Burdock root, Nettle and horsetail to help nourish and strengthen the hair
Each mist also contains a shot of aromatic essences.
Can't decide which blend to choose?
"Peppermint Tea" For itchy scalps and minty freshness
"Coconut Water" Feel like you're in the tropics!
"Sandalwood Vanilla" For a relaxing hair spa-like experience
"Stimulating Herbal Water" For a follicle invigorating and emotionally energising blend
Sorry!
We're sorry that we're currently out of stock of this product.
But, if you put your email address below we can let you know as soon as it's available.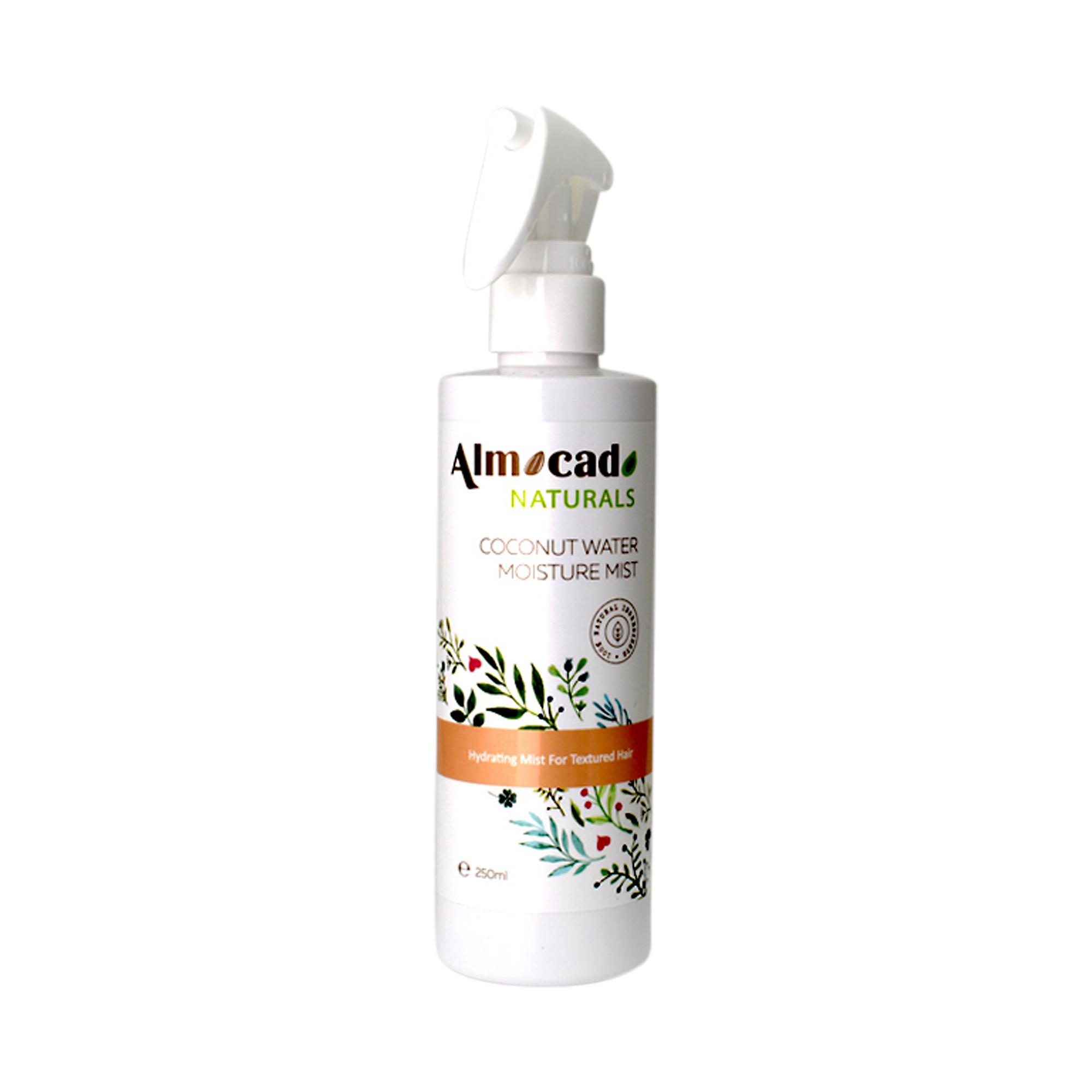 Send to a friend
Coconut Water- Moisture Mist
Distilled Water, Rosmarinus Officinalis (Rosemary) Distillate, Aloe Vera, Vegetable Glycerin, Polysorbate 20 (emulsifier), Hydrolysed Soy Protein, Hydrolysed Corn Protein, Hydrolysed Wheat Protein, Phenoxyethanol, Caprylyl Glycol and Chlorphensin (Preservative to prevent fungi and mould growing in your product),Urticara Dioica (nettle) Extract, Equisetum Arvense (Horsetail) Extract, Cocos Nucifera (Coconut) Extract, Fragrance.
Question:
Hi how soon in loc journey can you use this?
Asked by Chauntelle
Answer:
You can use any of the Moisture Mists from Day one
Question:
Can I use this on braids & if yes how often ?
Asked by Titilayo Akinjogbin
Answer:
This is a favourite of braid wearers - simply use it to refresh the hair or scalp as necessary. This could be once a week or once a day.
Question:
Previously i have been using rose water daily for sister locks , can i continue to do so and also use this product? How often should I mist my hair using the mist?
Asked by Ms Vivien Erica Simpson
Answer:
Hi,
You shouldn't need to use both but you could do if you want to.
You could also alternate uses between the two.
The difference is that the Rose water available in shops doesn't usually contain aloe vera, burdock root or horsetail like our moisture mists do.
How often you use it depends on your location: someone living in a very dry climate will need more than someone in a humid area.
Ask a question
Customer Reviews
Hey...I love my products!
High quality product and speedy serviceHigh quality product and speedy service. Smells and feels so good on my hair - not heavy at all, refreshing and great for hydration (especially in this temperamental English weather!). Much love x
Leave a review