Coco Monoi Joy!
Light, easily absorbed organic Hair & Skin Oil
A fragrant hair oil blended with organic Coconut and pure Monoi de Tahiti oils.
This luxurious oil can penetrate the hair strand - providing protection from excessive water absorption during washing or swimming - making it an excellent pre-poo or pre-swimming treatment.
When used with a steamer or as a hot oil treatment - hair feels soft, lightly conditioned and moisturised. Suitable for loose natural, relaxed and locked hair
Monoi oil will help heal past damage and also help to prevent new damage from mechanical, chemical or the elements from happening. Like coconut oil, Monoi can help stop protein loss in hair which has been shown to help stop breakage. This will help the hair grow longer, stronger and become healthier. It also contains coconut oil and because of this, Monoi oil helps to significantly reduce frizz.
Tahitian Monoi oil penetrates the hair shaft, helping the cuticles lay flat and stay smooth. Monoi oil helps add brilliance and shine to the hair. It has a high concentration of vitamin E which helps hair's elasticity plus strength and contains anti-oxidants which can help prevent free radical damage.
In clinical studies from the Monoi Institute, subjects saw fewer split ends, fewer dry ends and overall improvement in the general condition of their hair. Under the experimental conditions of the study, the Monoi de Tahiti "helped to improve the shine and overall look of the hair. Hair fibers were revitalized and keratin scales were more compact and presenting in a homogenous surface." In another study from the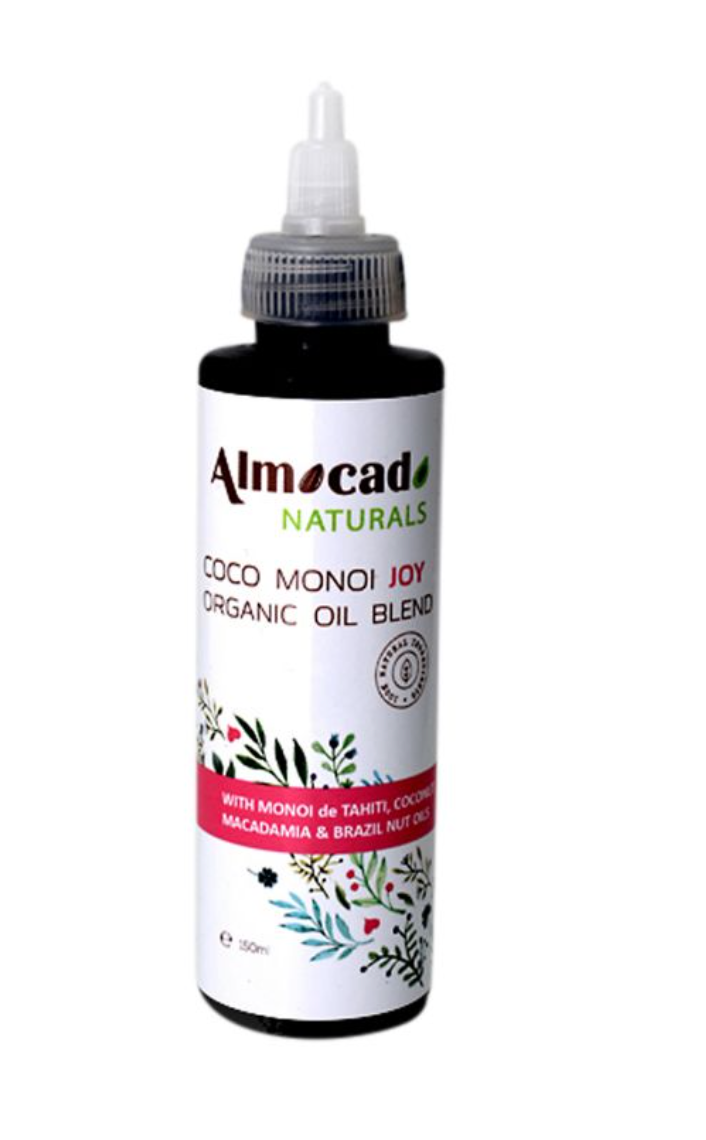 Share the love with your friend
Complete the form below and we'll email your friend about this product
You'll earn 12 reward points with this purchase.
Be the first in the queue!
We're sorry we're out of stock but, if you fill out your details below, we can let you know as soon as we've made the next batch.
How To Use:
Daily Styling: Dispense a small amount into your palms and distribute throughout your hair - focusing on the ends.
Hot Oil Treatment: Decant the required amount into a suitable container and letting it stand in a container of hot water until the oils reaches the desired temperature - before applying to your hair. Cover with a plastic cap or warm towel for up to 30 minutes - or allow to penetrate for 4 hours for super intense conditioning
Key Ingredients: 
Monoi de tahiti; Monoi Oil is only produced in Tahiti, French Polynesia. It is an infusion of extra virgin coconut oil and Tiare Flowers (Tahitian Gardenias). which is actually not an oil but a wax which becomes liquid at room temperature but you needn't worry about any 'waxy build-up' on your scalp or hair because at a molecular level, Jojoba is the most similar to our scalp and skin's natural oil (sebum) - in aromatherapy it can act as a sebum regulator which is why it is popular in balancing blends designed to regulate sebum production.
Organic Coconut Oil and fractionated coconut oil: we've included this in the blend to ensure that the product remains pourable and found that as a bonus, this type of coconut oil doesn't leave hair crunchy like its 'full fat' sister.
Organic Macadamia Nut Oil: highly penetrative, absorbs quickly without leaving an oily or greasy residue. Some find it leaves a satiny not oily finish to the skin and leaves hair shiny, silky and moisturized.
Monoi de Tahiti, Organic Coconut Oil, Fractionated Coconut Oil, Macadamia Oil, Brazil Nut Oil
Reviews
I love this product. I use it in my hair (sisterlocks of 4 years on Afro Asian type hair) and on my skin. Hair looks great, healthy with a shine and allows my locks movement. No residual. Worth purchasing. Will try using it as a Hot Oil treatment. But it is one to order and order on repeat.
This product is so versatileOMG!!!!!! I used this product for the first time after a ACV rinse, and really treated my hair to a hot oil treatment. My hair was so soft and healthy (never seen it this way). I received so many compliments on the appearance of my hair and it felt different too, with an extra gloss and bounce to it. This product is so versatile as the description states it's also fabulous as a daily product. I'm so glad I ordered it and didn't wait to see reviews first. Ladies please if you are thinking of trying this, go ahead you will not be disappointed. Christine
Leave a review