Stage 1 Seaweed Shampoo (Strands Together)
Stage 1 Seaweed Shampoo (Strands Together)
Clarifying Shampoo with Seaweed & Spirulina
Great news for natural hair AND locks! As a stylist and Sisterlocks consultant I understand how tricky it can be to find a suitable shampoo for interlocked strands. This is why I am proud to introduce my latest shampoo: the Stage 1 Seaweed Shampoo. (formerly known as The StrandsTogether Stage 1 Loc Shampoo with Seaweed)
 
pH balanced and deep cleansing, this shampoo clears grime and unwanted residue while simultaneously nourishing and protecting your locs, effectively restoring natural shine and bounce.
This is a winning combination of hardworking cleansers blended with fortified seaweed extract, nourishing blue lupine seed extract, moisturising aloe vera and a dash of pro vitamin B to strengthen, replenish and protect.
Excellent for starter locs but also wonderful as a gentle clarifying shampoo for all hair types.
Please note - this shampoo is 100% hand made and as such there may be slight variations between batches.

Below is a video review of this shampoo. Please also read this article on why I formulated this Seaweed Shampoo.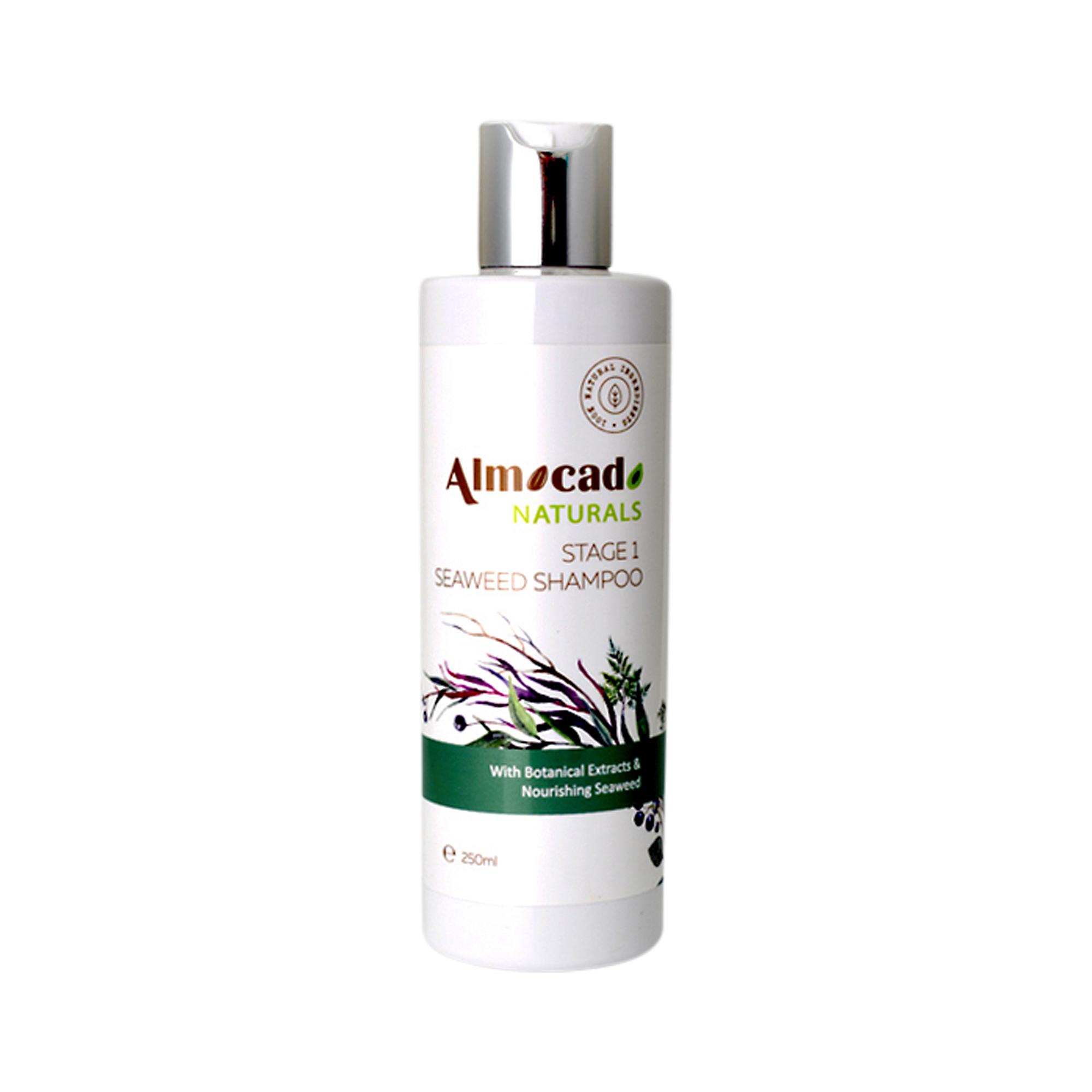 Share the love with your friend
Complete the form below and we'll email your friend about this product
You'll earn 14 reward points with this purchase.
Be the first in the queue!
We're sorry we're out of stock but, if you fill out your details below, we can let you know as soon as we've made the next batch.
Apply directly to the roots, lather gently to thoroughly cleanse the scalp, before massaging into the rest of your hair.
Product may be diluted in a spray bottle and applied directly to the roots for easier application.
Rinse thoroughly.
Repeat if required.
Aqua, Mipa Laureth Sulphate, Cocoamidopropyl Betaine, 
Glyceryl Oleate, Coco-Glucoside, Glycerin, Phenoxyethanol & Ethylhexylglycerin, 
Guar Hydroxy Propyltrimonium Chloride, Hydrolised Wheat Protein, DL-Panthenol, Citric Acid, Fragrance, Spirulina, Powdered Seaweed Extract
Key Ingredients:
Seaweed is rich in vitamins, minerals and antioxidants, all of which are needed by hair follicles to maintain healthy growth.
The unique mixture of peptides present in Lupine proteins penetrate to the hair cortex, improving strength and elasticity with no build-up; whilst also forming a protective coating to helping retain moisture. Lupine peptides have also been shown to interact with hair keratin and hair dyes, to give colour-fast properties. They also re-inforce disulphide bonds in damaged hair, helping repair the hair and prevent further damage.
D-Panthenol penetrates the hair shaft to strengthen from within and also forms a light protective film - which can help hair appear thicker.
Glycerin is an oil-alternative, it moisturises the hair without causing slippage
Mipa Laureth Sulphate is an effective cleanser sourced from Coconut and Palm Kernel Oil.
Reviews
At first I was scared to use anything but I had run out of the starter sisterlock shampoo and I was recommended this by my loctician. This shampoo here is just Wow. All that itch and dull look was erased after one wash. Not to mention the new bouncy look and shine of my sisterlocks (1 year old). The peppermint and the fresh tingle is refreshing. I'm the pat after washing my hair there is that dull residual look and frizz however with this shampoo and with a little amount my hair feels so clean. No more dull my scalp feels cleansed and free of any build up. I would be stocking up on this for sure.
I absolutely love this shampooHands down .. Almocado Annette's brand stage 1 locking shampoo. I love the smell, it nourishes the hair and doesn't strip the hair yet cleanses thoroughly.. I absolutely love this shampoo ❤️
Love shopping with almocadoHelps my #SmallLocks stay on point. Love shopping with almocado #QualityProducts #AlmocadoLondon #MelsLocks #Locks"
luv your product! Yaaaayyyyy...I luv your product. I use it as an alternative to the Sisterlocks starter shampoo
I love this on my sisterlocksI love this on my sisterlocks. Very clean afterwards
WOW!Greetings, I just received my order of Almocado products and I must say it's better than any product I have ever used. I've had Sisterlocks for 2 1/2 years and have been natural for close to 15. The shampoo got my hair so clean that it had a natural glow. It was a noticeable difference. My hair was clean, it had body, and it smelled fabulous. The Avocado Honey & Milk leave in conditioner soften my hair and didn't straighten out my waves from my braid out. WOW! Most leave-ins are water based and my hair goes flat after I apply it. This product worked just the opposite....and my hairs smells wonderful. I just wanted you to know how pleased I am with your products and will be spreading the word. Let me know if you start selling retail here in the U.S. Peace and Blessings Loresia
FINALLY a starter shampoo that does NOT dry your locs outSending love.. All the way from Louisiana!!! I washed my sisterlocks with the stage 1 starter shampoo and I Absolutely LOVE IT!!!! THANK YOU VERY MUCH!!!!! FINALLY a starter shampoo that does NOT dry your locs out ,yet feels so soft and clean!! Bless your hands and heart...I will remain a customer as long as you continue to sell it!!!!
The products smell lovely, My hair felt greatHello Annette, I received the products yesterday and I tried them this evening. The packaging is very attractive and the products smell lovely. I used the seaweed shampoo, the hair oil, and spritz today. My hair felt great after I used the products. I also love how I can regulate the flow of the hair oil and the fact that there is a safety catch on the spritz bottle cause my 5 yr old gets curious. I will be sure to write reviews on the products on your website after I have uses them a few times.
Loving it right nowI have only used this product once and myself and my consultant could see the difference in my hair. It was much brighter and less lint.... Loving it right now
My absolute favouriteThis is a great product for me. My absolute favourite. I have used this shampoo twice now and it cleans! http://naturalcrowningglory.blogspot.co.uk/2014/05/wash-day-ramblings-and-almocado-strands.html
The results are fantasticMy first time using Almocado Shampoo for sister locks (thanks for the sample) on my daughters hair. When I tell you the results are fantastic, I am telling the truth. My struggle has been finding a deep cleaning shampoo for our locs that really works, don't leave a white film in our hair and won't cause our locs to stick together after washing. My daughter's hair is clean and not even one of her locs are stuck together. Because her hair is clean it feels light and has a natural bounce. Not dull and lifeless like it has been with other shampoos. I can't keep my hands out of it because her hair feels amazing and I love it!!! I need a special extra large bottom of this stuff!!!! Placing another order next week!
My hair looks so much betterHappy New Year!! I hope this message finds you well. I don't know if you remember me but I contact you a few months ago about purchasing the Almocado stage 1 shampoo from a vendor in the US. I just wanted to write you and tell you that I was able to purchase, and use the shampoo and I am in love!!!! I used the shampoo and it left my locs super soft, and my hair looks so much better. Even my husband can't keep his hands out of my hair!!! I just wanted to drop a note and say thank you again for your help, and I look forward to enjoying your product for years to come!
love the way this shampoo makes my hair feelI love the way this shampoo makes my hair feel, it feels very nice when freshly washed, the scent is beautiful as well. My review is mainly about the excellent customer service I have received from this company. It has been second to none. I had a bit of a problem with a delivery, and sent an email in between the Christmas and New Year period. I did not expect to get a response until after the New Year, much to my surprise, I got a response on the very same day, within a couple of hours. I was more than pleased with the way my query was resolved and although I was told my order would be re-sent when the offices opened on the 2nd January, I got an email on the 1st telling me my order had been shipped. I really had to come here and let it be known that I am beyond pleased with the way everything has been handled. So efficient and so quick, my expectations have been well and truly exceeded. Keep up the good work! You have a very happy customer here.
This shampoo does the work without stripping.5stars to the product AND the company! I felt in love with this product and didn't expect much upon receiving it the first time. To summarize my locs were pooping! (I just passed the baby phase). My hair was full, my ends super coily and bouncy, my hair had movement. My hair and scalp feel so clean every time I wash (I most often have issue with itchiness with some shampoo brands). To top it off I even have some sheen!(not that I care, but I got so many compliments). This shampoo does the work without stripping. I feel the difference right away when I alternate with the Sisterlocks shampoo that I'm trying to finish. Finally, kudos to Annette for her professionalism and her customer service. She worked with me even though my order had to be changed several times and she made sure my package arrived on time during the holiday season, which was amazing because I was able to share my gift! Thank you Annette! I now, just need a new official vendor in the U.S to get more of your products :)
This shampoo is fab and I am very happy!I was searching for a shampoo that could clean my Locs properly. I found that many would leave a residue or they had a lot of harmful chemicals. Long story short (I was going to write an essay lol), this shampoo is fab and I am very happy!
My hair has changed so muchSee full honest review here http://naturalcrowningglory.blogspot.co.uk/2014/05/wash-day-ramblings-and-almocado-strands.html
My hair is looking gloriousI went to my reti having washed with your shampoo Annette. I think my hair was back to black instead of dark, dull grey afterwards. Felt so clean and my hair is looking glorious. Thanks :-)
Highly recommend Almocado shampoo is wonderful I used it on my sister locks and my hair and scalp felt wonderful wasn't dry at all....highly recommend it...I'm waiting for my shampoo along with a couple other products from Almocado Natural to come 
Customer service was amazing!So, This month is my one year Sisterlock anniversary, thought it's rime time to treat my babies to something new. I have given my consultants directions and advice of giving the recommended shampoo a chance for 1 year. I found that that with other products my hair feels so dry and dead that I had to make some changes. I have heard so much about Almocado products, watch all the you tube vids, follow on insta etc. (I'm not a stalker by the way). So I thought I would take the chance. Firstly can I say that the customer service was amazinggggg, you really went out of your way for me and I really appreciate that!! Now to the product, it smells absolutely gorgeous and fresh. Whilst washing: shampoo suds up nicely, hair did not feel that rough tanglely texture I have often felt whilst washing. Zero build up or flakes left after 2 washes, texture of hair does not feel dried out (and this is just after the first wash). After wash: Hair texture feels well moistured campared to other shampoos used. Loving the effects on my hair after using this product for the first time and intend to keep using it. Thanks Almocado, Christine.
one of the best I have usedI was lucky enough to win the Stage 1 seaweed shampoo in a competition online and I'm so glad I did! This shampoo is definitely one of the best I have used, it is very cleansing on my hair and removes build up with ease. My hair felt very soft afterwards. I'm looking forward to ordering the conditioner to go with it
For Sisterlocks, much better than the Starter ShampooMy Sisterlocks are almost 6 months old and since the installation I have been using the Sisterlocks Starter Shampoo weekly. Prior to my lock journey, my natural hair was very sheeny, curly and frizzy, and even though some of those characteristics remain with the locks (frizz), the sheen and overall "healthy look" has not. I faithfully followed my consultant's instructions which resulted in dull looking hair, scalp buildup, and excessive breakage on my unsealed ends. I decided to ditch the Starter Shampoo, and try a few other clarifying shampoos but still had one or all the issues above. Finally, I decided to cough up the money to try out Almocado's Seaweed Shampoo and I am so glad that I did. I wish I would have done it sooner. My hair has it's sheen back. My scalp is actually clean and I no longer have an itch right after shampooing. Most of all, the texture of my locks and ends feel so much better, the poofiness of my ends have reduced. I feel much better about my Sisterlocks now and I plan to keep using Almocado's shampoo.
Leave a review