Argan Hair Milk
Size: 0.29kg
Sorry!
We're sorry that we're currently out of stock of this product.
But, if you put your email address below we can let you know as soon as it's available.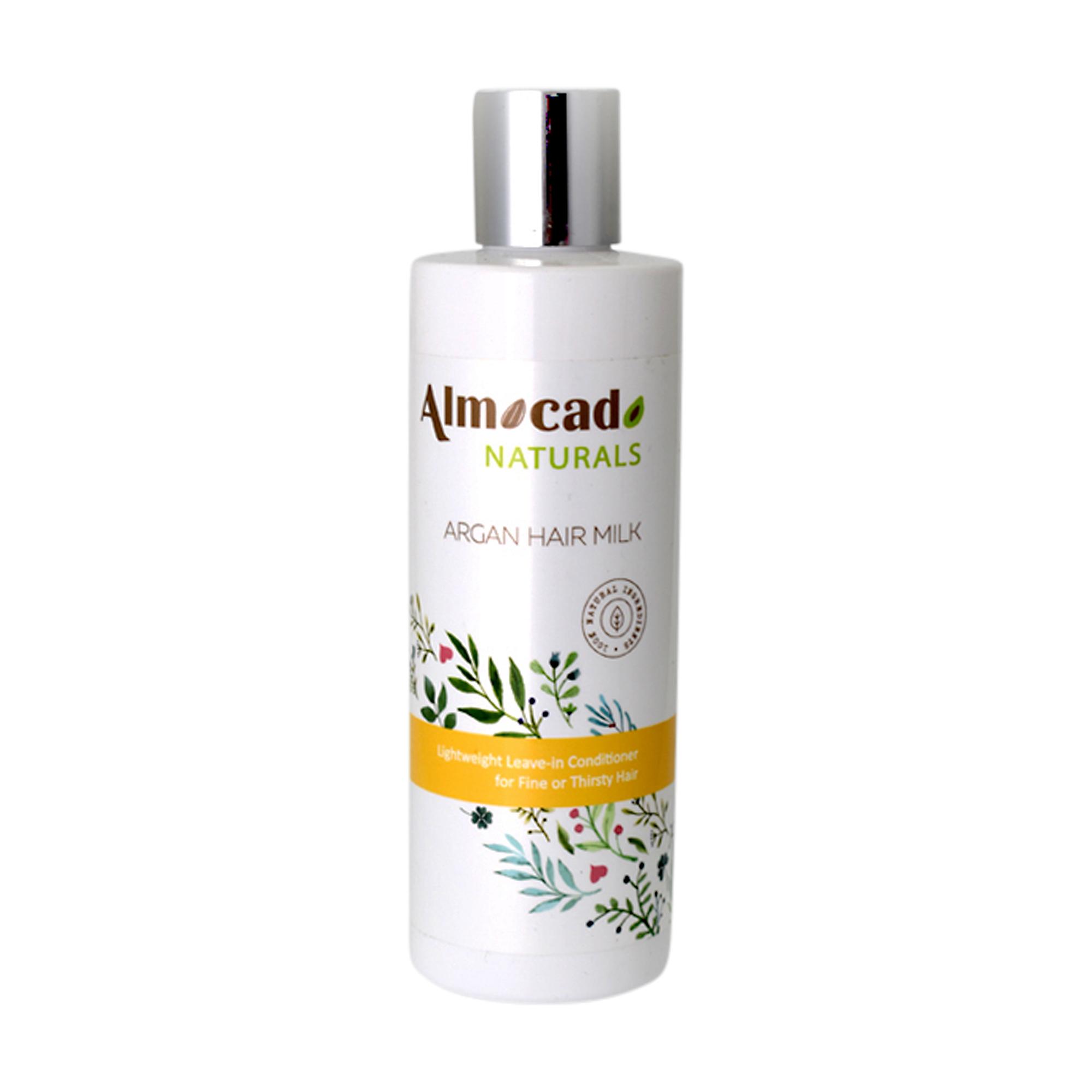 Send to a friend
Argan Hair Milk
Light Hydrating Moisture Milk
Apricot, Argan & Meadowfoam Milk, intense moisture milk to quench & nourish dry hair. 
Meadowfoam is formed of long-chain fatty acids which make it super moisturising but non-greasy, it adheres to the hair shaft,  adds shine and contains some antioxidants. Blended into this is Argan oil - also known as 'liquid gold' used by Moroccan women for healthy and vibrant hair. 
Suitable for all hair types (curly, wavy, kinky, coily), relaxed, natural or locked. Easily absorbed without greasy residue on your hands - doesn't buildup in your hair.
Our light but loving hair milk brings intense hydration to curls, locs and relaxed hair - easily absorbed with residue or greasiness. Blended with hair penetrating oils like Kukui and Meadowfoam (beneficial to dry, damaged hair)- alongside softening organic apricot oils. Weve combined this hair loving oil serum with hair-repairing panthenol with a dollop of water loving glycerin to help retain moisture.
This leave in conditioner helps reduce breakage by keeping your strands hydrated.
Suitable for daily use and all hair types. Best applied to dry hair.
Aqua, Glycerin, Limnanthes Alba (Meadowfoam) Oil, Behentrimonium Methosulfate (and) Cetearyl Alcohol Prunus Armeniaca (Organic Apricot) Oil, Aleurites moluccana (Kukui) Nut Oil, Althaea Officinalis Root & Helianthus Annuus (Sunflower Oil infused with Marshmallow Extract), Panthenol, Hydroxyproplytrimonium Honey, Phenoxyethanol (and) Caprylyl Glycol (and) Chlorphenesin, Fragrance.
Question:
Can I use your conditioner and hair milk for my thick Locs. It needs a deep clean and it is dry Thanks
Asked by Marley
Answer:
Yes, you can use any of our handmade naturally loving conditioners on our locs. You may find that deep conditioning and a steam is enough to boost your moisture levels and so the hair milk is unnecessary.
However, you can use the Argan Hair Milk but make sure you apply it to the palms of your hands first and then massage it into your locs - this method works well for microlocs and Sisterlocks, so there's no reason to believe it won't work for thicker locs.
Question:
What is the shelf life of your avocado hair milk leave in?
Asked by Shannon
Answer:
All our conditioners, moisturisers and leave ins have a shelf life of at least 36 months
Question:
What would you recommend best for 2 year old sisterlocks. Very kinky hair that does not easily retain moisture? Is the Avocado or Argan milk better? Also is it recommended to alternate the Peppermint shampoo with the stage 2 hibiscus shampoo? I'be used stage 1 and loved it but think my hair is mostly locked now. looking for a complete product line. Thank you!
Asked by Leslie Hamilton
Answer:
Hi Leslie,
Due to the interlocked nature of Sisterlocks, we recommend staying with the ARGAN hair milk as it so easily absorbed and won't cause build up. You're more than welcome to try the Avocado milk as it's richer and more substantive to the hair but be mindful that locs are unique and while one person's may happily drink this up, another person's may not be as happy. That said - we've had no reported issues from loc'd customers using either product.
The Stage 2 shampoo is a conditioning product, great for loose naturals, and those with coloured or matured locs. It can be diluted to aid application to interlocked or palm rolled hair. Both versions of our Stage 1 Shampoos are clarifying - so some customers like to first shampoo with the Stage 1 and then follow with Stage 2. The choice is yours :)
Ask a question
Customer Reviews
This Smells Devine!This Smells Devine! I currently use this when doing my mid week restyle after using one of the Almocado Sprits. I must say that my hair always feels really healthy when I do my end of week wash. I am in dance studios and sweat a lot yet my hair feels incredible by wash day (which I have not experienced with any other products) No buildup here EVER! I'm so happy as I'm away in a hard water area but have not had any problems with my hair after two weeks. I feel the moisture could last me 10+ days (but won't take the risk)
Absolutely loving this hair milkAbsolutely loving this hair milk on Jasmine's hair! Almocado Annette is a hair product scientist!! Jasmine's hair is very fine and easily weighed down by hair products, it does need a moisturiser as it can get dry. I've finally found the perfect product for her hair that not only smells amazing, but is light enough not to weigh her hair down and so still has bounce to it, and it's moisturised with a nice silky feel to it. If anyone has wavy/curly hair like Jasmine then give this product a try!
MY SISTER LOCKS are on fleekA few months ago I watched a video of how to apply this product to sister locks, and thought i'd give it a try. I am already using the seaweed shampoo on my year old sister locks, which has eliminated the dry, itchy and flaky scalp issues I had with previous shampoos. I have also given up on making my own spritz solutions and am using the scrumptious Cherry mist which keeps my hair amazingly hydrated. Now this miraculous milk adds moisture moisture moisture.........not too greasy for daily use, this milk is a God send, i absolutely love it. I purposely waited a month write this review as I wanted to see the difference it would make on my hair. OMG what a difference it has made, my hair does not look or feel like it's thirsty or crispy. My ends used to be constantly frizzy but now with the Almocado Cherry spritz and this Apricot Argan meadowfoam milk...... MY SISTER LOCKS are on fleek!!!! Annette I give thanks for your blessed hands, you sure have the gift...... Thanks Christine
Leave a review